Today Blur launched it's first Airdrop, but why is it relevant and why should you care? For starters, I think Blur shows the most realistic chance another marketplace has had at overtaking Opensea, but first, let's get a summary of Blur ⬇️.
TLDR.
Marketplace and Aggregator that allows you to buy and list NFT's in real time across various marketplaces (10x faster than other aggregators)

Accounts for 2nd most volume of all aggregators despite being in private beta for the past 4 months

Launched an Airdrop today in the form of 'Care Packages' containing $Blur for those who've been active in NFT's over the past 6 months

Zero marketplace fees, with incentives for users paying creator royalties

Majority owned by the community

Second airdrop in November

$Blur token launches in January

Backed by Paradigm, Punk6529, CozomoMedici, dhof, krybharat, Zenenca, OSF, Moonoverlord, icebergy, deezefi
Into the details:
Referring to Blur's marketplace as a marketplace for pro traders is, in my humble opinion, a misnomer. Sure the UI doesn't necessarily appeal to users buying casually, but the fact of the matter is the functionality does what we all want and need when buying a product, and similarly to Amazon's basic interface, it does the job... brilliantly.
Blur's product allows you to trade in real time, with NFT data appearing close to immediately, users benefit from a superior user experience to any other platform, seeing listings, sales and metadata reveals in real time.
Compound this fantastic product with the fact that Blur has also opted to push for community ownership, establishing exactly the kind of airdrop the NFT community wanted from Opensea, and we get something that likely will take significant market share from Opensea as users are incentivised to use, promote and own the product.
The mechanics of the airdrop have been well thought out, incentivising traders both large and small to reveal different rarities of 'Care Package' with different amounts of $Blur. And this is just the first airdrop. in November we'll see the second of potentially a few more Airdrop's based on user activity on the platform.
How to Prepare for further Airdrops
Blur have listed the following points on how the November Airdrop will work with the key point being, if you are an active member of the NFT community, just carry on doing what you're already doing, but through Blur, and you will be ok.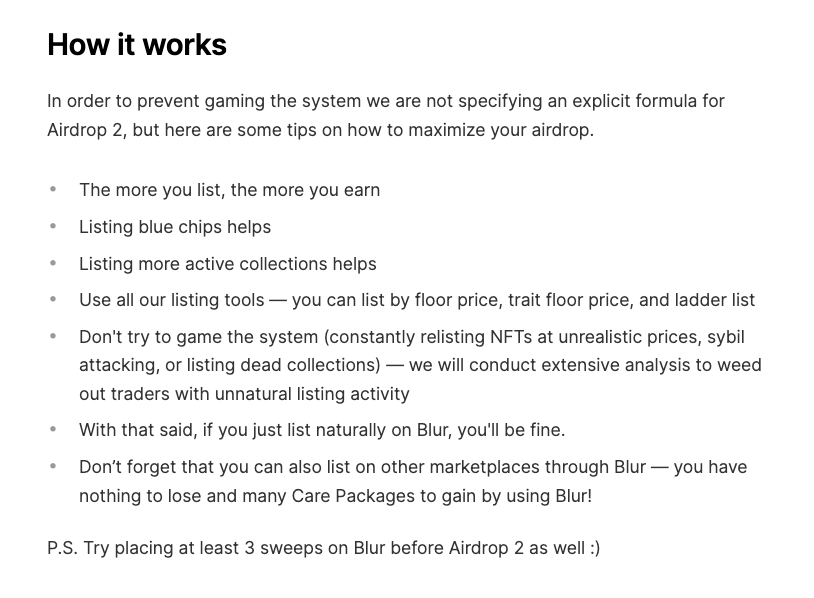 In conclusion, sure the product could look a bit more user friendly, but the fact remains that the product allows users to buy NFT's as they should, in real time, giving the product undeniable value to the NFT community, even without an airdrop. Not to mention the extensive roster of top NFT 'Influencers' that if not already invested, will now be motivated to invest through use of the platform in preparation for future airdrops.
So is Blur the Opensea Killer? Let us know what you think!
If you enjoyed this and want to receive our news and analysis first, please subscribe below.
Newsletter, Twitter, Instagram, Discord, Website, Opensea
---
*Disclaimer: None of the above represents financial advice.